Jan 28, 2019 17:37:36 GMT
Post by Auburn on Jan 28, 2019 17:37:36 GMT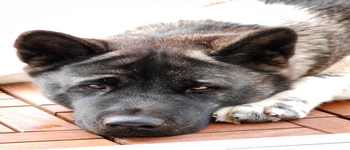 Jackson
2 years
Male
Heterosexual

He/him
Robur / Scout
Appearance

Jackson is a muscular dog, typical for an American Akita. He also looks very healthy, and his eyes are of a dark brown. Wherever he goes, Jackson usually carries a friendly-looking expression that will let you know that you're not in danger around him, unless you're dangerous. Jackson's body is covered in dark grays and browns, and white. On one part of Jackson's thigh, he has a black spot. Typical for an Akita breed, Jackson also has a curled tail.

Neutral Good
Job Description

Jackson is very dedicated to his job. He enjoys keeping his packmates safe, and he's really good at looking out for things. Jackson gets pretty confrontational, though, when he spots an intruder, and he'll lose his usual friendly personality. Jackson is the kind of Scout that you don't want to mess with. He's probably one of Robur's best Scouts.

Personality

Most of the time, Jackson is a very friendly dog. Carefree and happy. He likes making others feel happy, too, and enjoys spending time with his packmates. However, Jackson is also known to take everything seriously. He isn't the kind of dog to know something is a joke. Usually, Jackson thinks jokes are truth at first until someone tells him, an example of his father's seriousness taking its place on him. Jackson is also easily angered. Say something that may be kind of offensive, you got a big, angry hunk of muscle after you!

History

Jackson was born in Robur to two American Akitas. His only sibling was his sister, Orchid. Jackson was basically raised around a rather strict father, who wanted Jackson to be a Scout like him one day. Jackson didn't really appreciate this bossing around he got, but didn't show it. Most of the time, this pup was trying to impress his father and not get on his bad side. Jackson's father, who was called Chief, eventually started favoring Jackson after noticing the dog behave like "he should", while Jackson's mother, Duchess, favored Orchid.

Eventually, Jackson reached the age of 6 months, and couldn't be hanging out with his mother anymore and playing with the other pups. Jackson's mentor was a highly valued Siberian Husky known as Max. Jackson and Max became really good friends, but secretly Chief didn't like seeing a rather more friendlier mentor being the teacher to Jackson. Chief and Max met privately and got into a fight that killed Max. After Max's death, Chief was kicked out of Robur and joined Hectos, while Jackson was given a new mentor, the Commander of Robur. Eventually, Jackson became a Scout.