Jan 28, 2019 1:40:47 GMT
Post by Auburn on Jan 28, 2019 1:40:47 GMT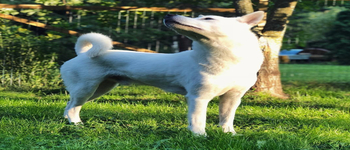 Zara
3 years
Female
Heterosexual

She / her
Umbra / Hunter
Appearance

Zara's coat is a short, snowy white, gaining a bit of fluff during the winter months. Zara is generally a very healthy-looking dog. She's kind of short, and her coat looks clean and glossy. No one can take a pick and criticize her beauty. Zara, being she is a Japanese dog breed, has a tail that curls over. Her eyes are also dark brown. They're so dark, one may think her eyes are actually black.

Chaotic Evil
Job Description

Zara takes her job as a Hunter seriously. She's very skilled at it, too, and it's probably because of the hunting dog kind in her breed. Zara can pursue prey for quite some time, and she's quite swift and strong. You can expect a skilled dog like her to be fetching lots of prey!

Personality

Zara is...difficult to explain to certain dogs. She's quiet around other dogs, and she's basically a mystery. She brings an eerie presence along with her wherever she goes, and she's quite cold. She'll watch a brutal fight go on and not do anything about it, but rather get interested in the fight. Zara's also pretty brutal, and overall frightening. She seems to be only sociable around her packmates. Some of her packmates and other dogs may even know her as the White Death due to how she is, or the White Queen.

History

Zara was born to Kishu Inu parents in Umbra. She had 4 siblings. Their names were Aslan, Cyrus, Belladonna, and Clover. As a pup, Zara wasn't really playful. She wouldn't play with any of her siblings when they wanted to. Zara secretly disliked them because they weren't like a "proper Umbra" that Zara believed all Umbrians should be. That was strict, cold, and mysterious. Basically emotionless. Zara's parents, Xeno and Kirin, didn't know why their daughter was this way. Zara disliked her parents too, because to her, they were too happy-go-lucky. As Zara grew older, she became a bit brutal, and concerned her parents. Her siblings began to fear her. Eventually, Zara's hate towards her parents and siblings caused her to have violent intentions towards them.

One day, Zara killed all of her siblings while they were asleep, one by one. Then, she hid the bodies and buried them, hoping her parents wouldn't find out. While they were getting close to one of the burial sites, becoming suspicious, Zara snuck behind them and killed them, burying them as well. Zara has kept this secret for a long time, no one except those she trusts, knows.